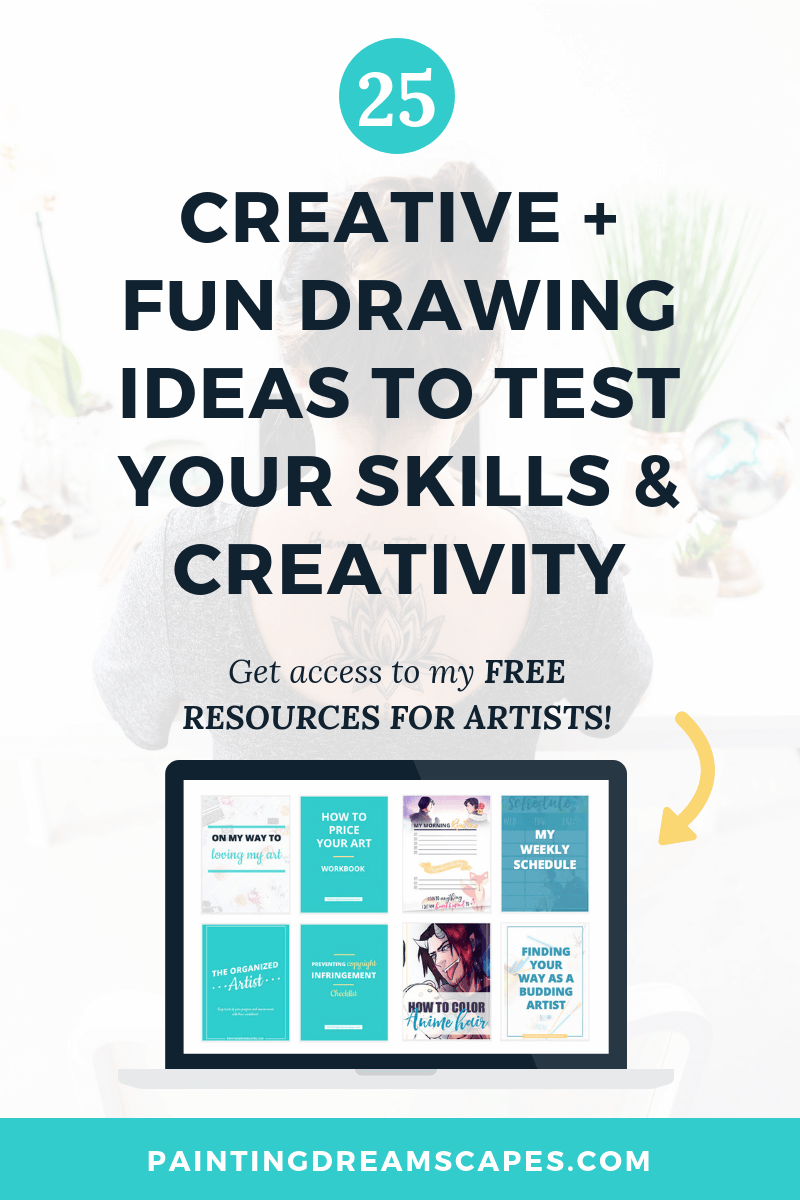 Ah, bummer. Not sure what to draw? Has the creativity-draining bug got you and all you're drawing is a blank? Well, I've got your back! I've curated a list of 25 creative drawing ideas to get your mojo back and also draw some cool stuff in the process!
I didn't want to create a boring list so I took my time to come up with drawing ideas that even I would want to draw! Say goodbye to art block!
And, because I love people who take action, I'll be giving away a $25 Amazon giftcard to one lucky person who completes the 25 prompts and shows them to me via email!
To enter you need to be a part of my community of artists, where you'll receive emails with valuable tips for artists, exclusive content downloads and cool promotions like this!
​​

Without further ado...
​25 creative drawing ideas to test your skills and creativity!
---
​​Choose a song you love, find a section of the lyrics that is inspiring and draw it

​Draw the sight from the nearest window but include something creepy hidden out of plain sight

​Draw a bowl of fruit, with cartoony faces + weird expressions as if one of them had farted and the rest knew

Ask the nearest person to say the first noun that comes to mind, design a character based on that noun

Draw a candy or gingerbread house

Paint a landscape using only shades of a single color (don't use 50 shades of grey, just sayin')

Draw someone watching the rain from their window, mood: 100% chill 0% Netflix

Draw an entire field of flowers paying close attention to the perspective to make the flowers near the viewer bigger and the ones farther away smaller

Paint a set of skyscapes for a morning sky, sunny sky, sunset sky and night sky - be very mindful of the colors

Draw the pose in which you sleep most of the time

Draw your favourite plant

Now draw your favourite plant as a humanized version

Draw a self-portrait of how you'd like to be/look in 5 years

If you have a partner, draw something lovey dovey featuring you both. If you're single, draw how you feel about your current love life (or lack thereof)

Draw a happy family baking cookies together

Paint yourself as a Hogwarts student (which house do you belong to?)

Snow day! Draw someone playing in the snow, making a snowman, snowball fights, whatever you want, it's snow day!

Draw a human version of your email inbox

Put your playlist on random order and illustrate the name of the first song that comes up

Take the most adorable and harmless character you can think of and redesign them into the most evil, vicious creature you can imagine

Now take the scariest, most evil creature you know of and turn it into the most adorable and squeezehuggable creature ever

Redesign your favourite pokemon and make it your own, it can't be a copy of the original design

Draw someone dozing off under a big tree in the summer, with a cute lil' bird resting anywhere on the person's body

Draw a porch full of hallowe'en decorations and carved pumpkins

Meta time! ​Draw yourself drawing a drawing of yourself.

Remember, if you're a part of my community and you complete the 25 prompts, email a photo of them all to hello (at) paintingdreamscapes (dot) com and you'll have a chance to win a $25 Amazon gift card!
Prize is only available until March 1st.

​Join my community and get access to all of my resources for artists, emails with tips and other promos by signing up below!
​​
Over to you! Which drawing idea did you like best?

Which idea from the list you'd like to try first? Do you have any crazy fun idea that you'd love to see added to the list? Let me know in the comments and I'll update the post with your idea + a link to your site or gallery!
Stay creative,