Do you know what they say that "the tools don't make the artist"? I wholeheartedly agree but… For some reason, they never seem to tell you that the wrong tools can break the artist too. So, whether you're looking to buy your very first graphics tablet or you're thinking about upgrading yours, I'll help you find the right Wacom tablet for you!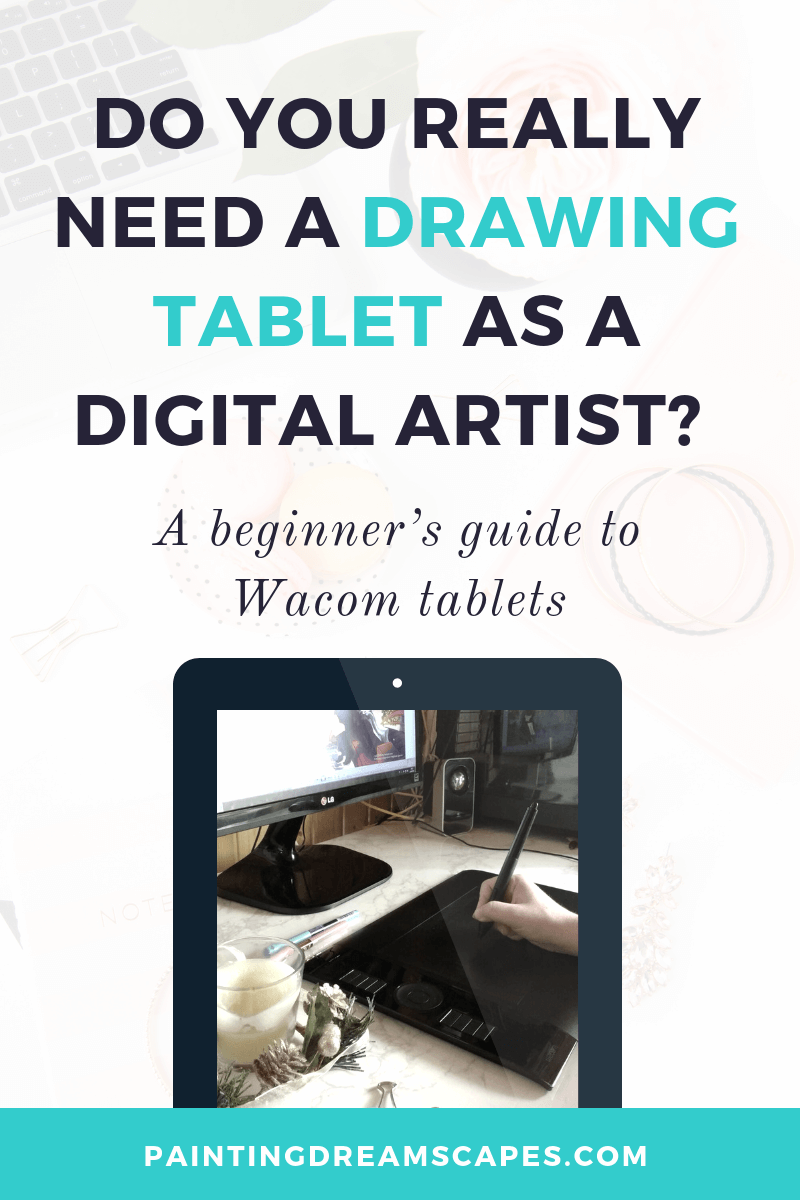 I can't believe, it's been 10 years since I received my very first graphics tablet as a birthday present. I actually think I cried.
Imagine a child on Christmas morning… Then combine that with his birthday, his graduation day, his wedding day, and all of the days he'll ever receive presents in one! And then there's me the day I received my very first drawing tablet!
Because, you see… This wasn't just a drawing tablet.
No, not at all.
It was so much more than that.
It was my friends & family's way of acknowledging that I was an artist.
That they believed in me and wanted me to keep pursuing this growing passion of mine.
Bliss just doesn't do what I felt any justice. I locked myself in my room, ready to put that drawing tablet to the test and improve my skills dramatically overnight.
But… What I found wasn't as exciting as I thought.
It was pretty disappointing, actually.
My brand new graphics tablet couldn't, for some reason, draw straight lines. All it could do were wobbly ones.
But, hey! An average tablet is better than no tablet, right?
Wrong.
I spent two years using that graphics tablet only to colour my pieces. I had to do the drawing with a pencil, scan it and then do the lineart digitally using SAI's pen tool. It was an unnecessary waste of time that wasn't contributing to improving my art or my skills at all.
Eventually, I simply decided to start painting in semi-realism so that I wouldn't need to draw lines at all. Two years later, I hadn't improved that much in either Manga or Semi-realism style.
Can you imagine wasting two years not being able to improve much because your graphics tablet is dragging you down? The one tool that is meant to make your life as an artist easier… Making it twice as hard instead?
That brings us to why this post exists. I want to help you find the best Wacom tablet for you based on your current and future needs! So that you don't feel like you've wasted your money and your time on a tablet that doesn't live up to your needs.
Don't let the wrong tool thwart your progress!

WHY WACOM TABLETS?
In this post I'll only cover Wacom tablets. I'm sure by now you can guess that my first tablet wasn't a Wacom tablet.
It was a "Trust" tablet. And not only was it unable to make straight lines, among other flaws, it was also such poor quality that it didn't even last for two years before breaking down.
After that fiasco, I saved up to buy a $350 Wacom Intuos 4 tablet. And boy has it lived up to my expectations!
It's very easy to use and everything worked as expected. No more wobbly lines! *hooray!*
The quality and design are stunning
The pressure sensitivity makes it very easy to draw pretty and crisp lines without any effort
It hasn't failed me once in 8 years of constant use and still works as good as new
There's lots of help and support online for almost anything you need because most artists use Wacom, so there's a lot more info available for you compared to other lesser known brands
Wacom is a very professional and reliable brand. Their graphics tablets are of incredible quality and are industry standard in the animation, gaming and film industries.
There are many other options out there, cheaper ones, but I personally trust Wacom the most and I can vouch for the good quality and durability of their drawing tablets.
Without further ado, let's go over the different Wacom tablet models that are now in the market and see which one is the right for you!
This post contains affiliate links. This means, if you click these links and make a purchase, I may earn a commission from the sale at no extra cost to you. If you choose to make your purchases through my affiliate links, you're helping me keep Painting Dreamscapes up and running! I only promote products & brands I love and use myself ♥
The Wacom Intuos models are entry-level tablets. They are usually smaller than other models, lightweight and extremely portable.
These drawing tablets aren't as powerful as others but they are the most affordable. This makes them the best option for budding artists who want to start doing digital art without spending too much on a tablet, for now.
They range from $79 to $250 depending on the model and the size.
These are drawing tablets without a screen, so you draw on the tablet while looking at your screen. It's easier than it sounds, I promise 😉
There are five models available for purchase: Wacom Intuos Draw, Art, Comic, 3D and Photo. Depending on the model, the Wacom Intuos models come with certain art software such as:
Clip Studio Paint Pro
Anime Studio Debut 10
Corel Painter Essentials 5
Art Rage Lite
ZBrushCore
Recommended for you if…
You're a growing artist who wants to start drawing digitally
You can't invest much into a graphics tablet yet
You're often on the go and need a small and easily portable tablet to take along on your trips
This model is the current version of my good ol' Wacom Intuos 4 tablet. The Wacom Intuos Pro is larger and more powerful than the Intuos model.
It comes with express keys to the side of the tablet that you can personalize with the shortcuts you use frequently (ie. copy, paste, transform, undo, redo, etc.).
It also has a touch ring that lets you zoom in and out, scroll through the layers, etc.
The pen is also sturdier than the Intuos' and comes with a set of replacement nibs on a case that also serves as a pen holder.
Wacom Intuos Pro tablets are very reliable. The one I have – even though it's an older model from 8 years ago – still works like the first day and hasn't failed me once.
It's very easy to use and doesn't require tedious installations of any kind. Just like the Intuos, you draw on it while looking at your computer's screen.
Wacom's official website has a set of drivers available for download if your tablet needs them. I usually download and install them when I connect my tablet to a new computer.
These models range from $400-$550 depending on the size you choose, so they aren't as affordable as the Intuos models for beginner artists. But they have a good return on investment if you're serious about art and plan on turning art into your career.
Recommended for you if…
You are an intermediate to advanced artist who is not yet ready to invest in a Cintiq tablet but need a high-quality, reliable tablet
You are a beginner who is determined to become an incredible artist and you don't want to waste money on a small tablet you'll outgrow fast enough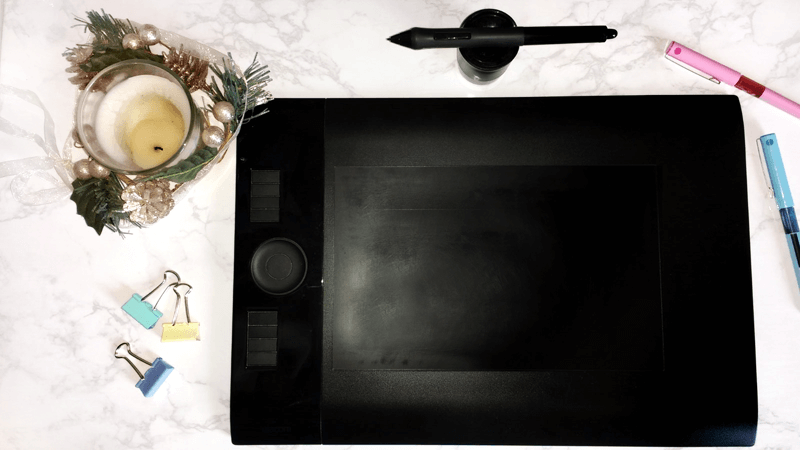 Look at my precious tablet… Isn't it pretty? My tablet would be a ninth grader if it were a real person :'D And it hasn't failed me once in all these years!

The Wacom Cintiq tablets are high-definition pen displays designed for creative professionals.
Unlike the previous models, the Wacom Cintiq is a drawing tablet with a screen. You draw directly on the display, so the feel and experience is the closest to that of drawing on paper.
These graphic tablets are widely used by professional artists in the gaming, animation and film industries. They are powerful, reliable and built with creatives' needs in mind.
There are different models and sizes. Most of them are too big to be portable and you'll need to have enough room in your workspace to fit them (especially the Cintiq 27HQ).
Although the Cintiq models have a screen of their own, they are not "pen computers". They need to be plugged in to your computer to work, and will use your computer's resources to work. So, if you have an average computer, it won't run as smoothly as it would if you had a powerful one.
These are in the higher price range, with the smallest model starting at $800 and the largest at $2,800.
Recommended for you if…
You are an intermediate or advanced artist and you want to further develop your skills with a tablet that can keep up with your needs
You're 110% sure you want to be a professional artist, or you've already turned your art into your career
You're ready to invest all that it takes in better equipment for your workspace
The Mobile Studio Pro tablets are Wacom's newest portable pen computers. The successors of Wacom's "Companion" series of portable pen computers.
The most important feature is that these aren't just pen displays, they're pen computers. They are drawing tablets with a screen that are also computers!
Therefore, they don't need to be connected to your computer to be able to work with them. Although you most definitely can use them while plugged in to your computer, but you'll need a special adapter.
When they are not plugged to a computer, they run Windows OS. However, when they are plugged to your computer, they can run either Windows or iOS depending on your computer.
The Mobile Studio Pro drawing tablets come in two sizes, 13" and 16" and each of them has different specifications available so that you can choose the one that fits your needs better.
You can choose between the models depending on the processor, SSD space and RAM that you want. For instance, the 16" Wacom Mobile Studio Pro with the highest specifications comes with an i7 processor, 512GB SSD and 16GB of RAM.
And, as you're probably thinking… The Mobile Studio Pro pen computers aren't cheap. They range from $1,500 to $2,900.
They've vastly improved the quality compared to the Cintiq Companion models, and one can only hope they continue to do so!
Recommended for you if…
You're an advanced artist who is constantly on the go, and you don't want to be stuck in your office in order to get work done. The freedom this pen computer gives you will be worth that investment and more
Notes: The battery for these graphics tablets ranges from 3 to 6 hours depending on usage. Keep that in mind if you need something that lasts longer.
Many of the accessories aren't included with the tablet (a stand, the Wacom link, a USB-c adapter, etc.). In fact, some aren't even on the market yet (the official Wacom stand, namely). I will update this section when I have more info.


In conclusion…
That sums it up! A brief overview of all the Wacom tablets on the market to help you choose the right one for you based on your current skill level, your preferences and your budget!
QUESTION TIME!
Do you have a tablet? Do you think it's the right one for you or are you considering upgrading to a better one? If you don't have a tablet, which one do you think would fit your needs better?